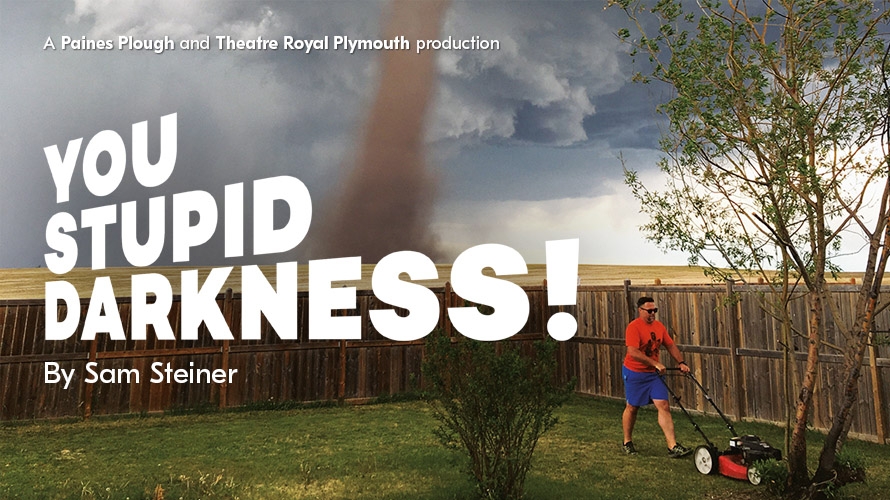 A Paines Plough and Theatre Royal Plymouth production
Details
"I just think it's, you know, important to look at the good things that are happening as well."
Everything's been falling apart for a while now. In a cramped, crumbling office four volunteers spend a few hours every Tuesday night on the phone to strangers telling them everything is going to be ok. As the outside world disintegrates around them, Frances, Joey, Angie and Jon teeter on the edge of their own personal catastrophes. Their hopes and fears become entangled as they try, desperately, to connect with the callers and with each other.
An urgent play from rising star Sam Steiner about the human, and sometimes humorous, struggle for optimism and community amid the chaos of a collapsing world.
"Hello. Brightline. You're through to someone you can talk to…"
Following the success of Love, Love, Love and The Angry Brigade, You Stupid Darkness! continues the exciting collaboration between Theatre Royal Plymouth and Paines Plough.
★★★★★
★★★★
Age guidance: 14+
Running time: 2 hours 15mins approx. (including interval)
Matinee performance now available on Saturday 23rd February.
Contains flashing lights and haze.
Pricing & Concessions
All Performances:
£15
Previews:
£13
Concessions:
£11
Dates & Times
Please click 'Book Tickets' to book your selected date from our performance list.
A £1 postage fee applies for tickets that are mailed to customers.
Concessionary tickets for Under 16s, Over 60s, Students, Friends, Priority Booking members, Young Company members and People's Company members can be purchased online. Members will need to be logged in to the website in order for their concession to apply. Concessions may not apply to all performances – please check the Prices and Concessions tab for detailed information on concessionary tickets and availability.
If you have a membership but have not yet created an online account with us please contact the Box Office on 01752 267222 and we will ensure your membership is associated with your website login for all future bookings.
Full terms and conditions can be found here.
Meet the cast
David Carlyle as Jon
Theatre credits include: THE TELL TALE HEART (National Theatre); THE OUTSIDER (L'ETRANGER) (The Print Room); ALICE'S ADVENTURES IN WONDERLAND (Royal Lyceum, Edinburgh); THE GOVERNMENT INSPECTOR (Birmingham Rep and Tour); TO KILL A MOCKINGBORD (Regents Park Open Air Theatre, UK Tour, Barbican Theatre); VICTORIA (Dundee Rep); SOMERSAULTS (Finborough Theatre); YELLOW MOON (National Theatre of Scotland); HANSEL AND GRETEL (Citizens Theatre); DEAD HEAVY FANTASTIC (Liverpool Everyman); THE MONSTER IN THE HALL (Glasgow Citizens / Traverse Theatre); CALEDONIA (National Theatre of Scotland); THE WONDERFUL WORLD OF DISSOCIA (Unicorn Theatre); THE WHITE DEVIL (Shakespeare's Globe – Sam Wanamaker Festival). Television includes: BODYGUARD (BBC); LIP SERVICE (Kudos). Radio includes: KITCHEN CONFIDENTIAL (BBC Radio 4); BEHIND HER EYES (Sweet Talk / BBC Radio); THE STROMA SESSIONS (BBC Radio 3); CHERNOBYL (Sweet Talk / BBC)
Andrew Finnigan as Joey
Andrew trained with The Customs House, South Shields. His theatre credits include: THE FIFTEEN STREETS (The Customs House, South Shields); BROKEN BISCUITS (Live Theatre/Paines Plough and UK tour); WORMTOWN (The Customs House, South Shields); MY UNCLE FREDDIE (The Customs House, South Shields) and most recently DRIP (Boundless Theatre, Edinburgh Festival, UK Tour and the Bush).
Becci Gemmell as Frances
Theatre includes: EYAM; THE WINTER'S TALE; COMEDY OF ERRORS; TAMING OF THE SHREW (Globe Theatre), THE HERE AND THIS AND NOW; FOREVER HOUSE (Plymouth Drum), NOISES OFF (Nottingham Playhouse/Northern Stage/Nuffield), WALKING THE TIGHTROPE (Offstage), MUCH ADO ABOUT NOTHING (Manchester Royal Exchange), 65 MILES (Paines Plough/Hull Truck), ONCE UPON A TIME IN WIGAN (Hull Truck), TAMING OF THE SHREW (Sprite), SIXTY-SIX BOOKS (Bush Theatre), FOXFINDER (Papatango/Finborough), EURYDICE (ATC/Young Vic), LARK RISE TO CANDLEFORD (Kenwright), ALL I WANT FOR CHRISTMAS (Theatre 503), AS YOU LIKE IT (Dash Arts/Curve Theatre), FUCKED (Tangram Theatre/Old Red Lion/Assembly Rooms), IS EVERYONE OK? (Nabokov/Watford Palace/Plymouth Drum), HOW TO DISAPPEAR COMPLETELY AND NEVER BE FOUND (Southwark Playhouse), MAD, FUNNY, JUST (Creased/Old Vic New Voices/Theatre 503), UNCERTAINTY (Sincera Productions/Latitude Festival), A MIDSUMMER NIGHT'S DREAM (Oxford Shakespeare Company), AIR GUITAR (Bristol Old Vic Studio), ANNIVERSARY (Old Vic New Voices – 24 Hour Plays), MUCH ADO ABOUT NOTHING (Guildford Shakespeare Company), VOLPONE (Present Moment). TV & Film includes: DOCTORS; CALL THE MIDWIFE; CASUALTY; CODE OF A KILLER; LAND GIRLS; RED LIGHTS; HOME TIME; ANGEL OF DEATH.
Lydia Larson as Angie
Theatre includes: FINDING FASSBENDER (Pleasance Courtyard); ELECTRA (The Bunker); BRUTAL CESSATION (Theatre 503); SKIN A CAT (The Bunker) – Offie shortlisted Best Actress; TRAVESTY (Fight in the Dog Ltd.); A SUPER HAPPY STORY (Silent Uproar); SKIN A CAT (Vault Festival); WE HAVE FALLEN (InSite Performance (Underbelly)); THE AFTER-DINNER JOKE (Orange Tree); SPRINGS ETERNAL (Orange Tree); EVERYBODY'S DOING IT (Arcola (Miniaturists)); PERSUASION (Salisbury Playhouse); BOOMERANG (Old Vic 24 Hour Plays); PRIDE AND PREJUDICE (Theatre Royal Bath and Number One Tour); ARCADIA (Sonia Friedman Productions). Television includes: DOCTORS (BBC); THREE MINUTE WONDERS: ROUTES (Channel 4); KIDNAPPED (Prospect Pictures). Rehearsed Readings: DAD'S DEAD; MURDER OF CROWS; LITTLE LIGHT (New Britannia); CORRESPONDENCE (Central School of Speech and Drama). Commercials: TWININGS (Blink); LIBRESE (T&T); SAMSUNG WAVE (RSA Films); ORANGE MOBILE (Mitra Films)/ Short Film includes: THE REUNION (NFTS); LAURA (5.0 Films); EXCUSE ME (Euro RSCG)