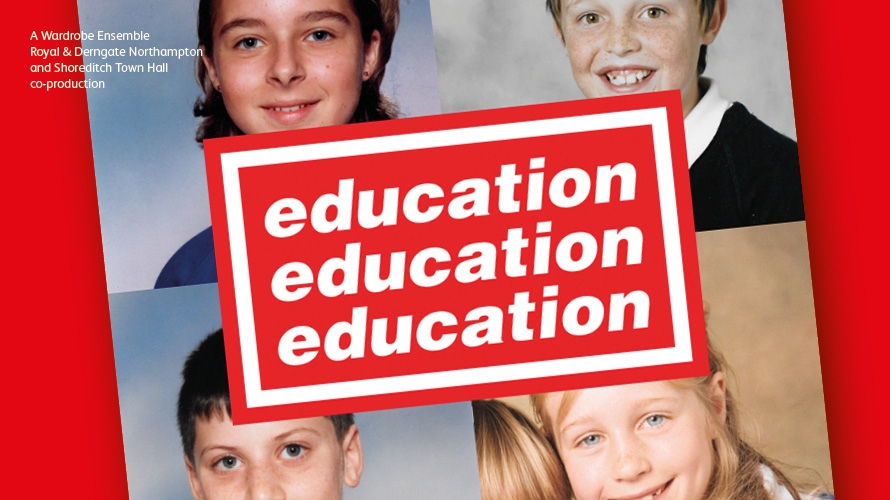 Details
It's May 1997. Tony Blair has won the election and Katrina and the Waves have won Eurovision. Channel 5 is a month old. No one knows who Harry Potter is. Britain is the coolest place in the world.
At the local secondary school it's a different story. Miss Belltop-Doyle can't control her year 10s, Mr Pashley has been put in charge of a confiscated tamagotchi and Miss Turner is hoping that this muck-up day goes smoother than the last. Tobias, the German language assistant, watches on. Things can only get better.
Education, Education, Education is The Wardrobe Ensemble's love letter to the schools of the 90s and asks big questions about a country in special measures, exploring what we are taught and why, and where responsibility lies.
The Wardrobe Ensemble use their trademark inventive theatricality and irreverent humour to explore the stories that have shaped our country's recent political history, and what the future might look like.
A great mix of energy, chaos and passion ★★★★
canny, slick work from a company that knows exactly what it is doing ★★★★
Brilliantly handled…superbly drawn…I was riveted
★★★★ The Scotsman
★★★★ The Stage
★★★★ Time Out
★★★★ Whats On Stage
Fringe First winner 2017
Run time: Approx 1hr 15mins
Pricing & Concessions
All Tickets
£15
Concessions
£11
Dates & Times
An 80p postage fee applies for tickets that are mailed to customers.
Concessionary tickets for Under 16s, Over 60s, Students, Friends, Priority Booking members, Young Company members and People's Company members can be purchased online. Members will need to be logged in to the website in order for their concession to apply. Concessions may not apply to all performances – please check the Prices and Concessions tab for detailed information on concessionary tickets and availability.
If you have a membership but have not yet created an online account with us please contact the Box Office on 01752 267222 and we will ensure your membership is associated with your website login for all future bookings.
Full terms and conditions can be found here.