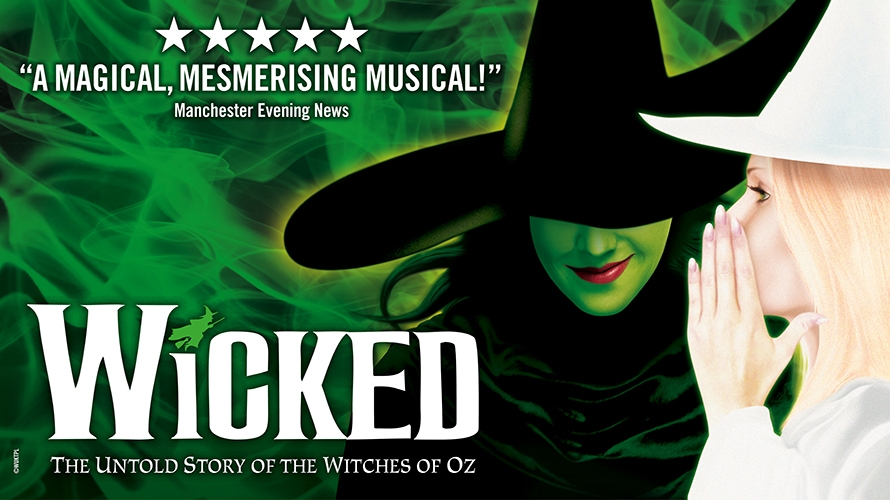 West End Smash Hit!
On now!
★★★★★ Best availability on matinees and Mon - Thu performances ★★★★★
Details
Winner of 100 international awards, Wicked has been casting its magical spell over audiences across the world for a decade and continues to break records at London's Apollo Victoria Theatre, where it is now the 10th longest-running show in the West End.
In a brilliantly witty re-imagining of the stories and characters created by L. Frank Baum in 'The Wonderful Wizard of Oz', Wicked tells the incredible untold story of an unlikely but profound friendship between two sorcery students. Their extraordinary adventures in Oz will ultimately see them fulfil their destinies as Glinda The Good and the Wicked Witch of the West.
Packed with thrilling technical wizardry, stunning costumes and show-stopping songs (by Academy Award® winner Stephen Schwartz), Wicked is an unforgettable experience for audiences of all ages.
Wicked is suitable for a general audience. As a guide to parents and guardians, it is recommended for ages 7+.
All concessions have now been taken for Wicked.
Running Time: 2hrs 45mins including an interval (approx)
Access performances
Audio Described Performance – Thu 5 Feb 2.30pm
Captioned Performance – Thu 12 Feb 7.30pm
Smartphone and tablet backgrounds
Please feel free to download a background for your phone. If you wish to have a background on a device not listed please use this background and resize as necessary.
Audience reactions from the opening nights!
Pricing & Concessions
Full price:
A £60.70, B £55.70, C £48.20, D £43.20
Please note: Prices include a 70p per ticket booking fee (up to a maximum of 9 tickets).
All concessions have now been taken for Wicked.
Dates & Times
A 70p per ticket booking fee will be applicable on all bookings made online, by phone and in person, for any payment method, up to a maximum of nine tickets. An additional 80p postage fee applies for tickets that are mailed to customers. Corporate Member, Friend, Group and School tickets do not incur a booking fee.
Concessionary tickets for Under 16s, Over 60s, Students, Young and People's Company members and TRAC members can be purchased online. Members will need to be logged in to the website in order for their concession to apply. Concessions are limited for this show.
If you have a membership but have not yet created an online account with us please contact the Box Office on 01752 267222 and we will ensure your membership is associated with your website login for all future bookings.
Once purchased, tickets are non refundable and non transferable.
Reviews
Every so often the Theatre Royal pulls a blinder – attracting the sort of big theatre event which is the talk of the South West… Wicked is a spectacular must-see
A MUSICAL MARVEL!
This colourful show is a treat for all the senses. Great scenery and costumes,
brilliant songs and fantastic performances. Get yourself a ticket for this great show.
With a spectacular set, stellar cast and a clever twist on a classic and well-known story,
WICKED IS NOT TO BE MISSED!
Catch it while you can, it's wonderfully wicked!
An award-winning show of bewitching calibre where
DYNAMISM BEDAZZLES FROM START TO FINISH!
Here is a production that ticks every box for sheer excellence and escapism.
UPLIFTING, SPECTACULAR AND SPELLBINDING STUFF!
Wicked is funny and exciting and transports you to a magical world.
A Wicked and wonderful vision of Oz. A remarkable kaleidoscope of magical shocks, surprises and sensations – Wicked works like a dream.
Wicked will entrance every generation in wonder, wit and suspense.
With first-class production values, fantastic costumes and a score packed with memorable tunes,
THIS MUSICAL IS SO GOOD IT'S WICKED!
Cast
Ashleigh Gray – Elphaba
Ashleigh has enjoyed a long association with the West End production of Wicked having originally joined the ensemble in 2007. She subsequently became Standby 'Elphaba' and has continued to act in this capacity at various times, playing 'Elphaba' on numerous occasions. Originally from Midlothian, Scotland, Ashleigh trained at the Guildford School of Acting, graduating with First Class BA (Hons) in Musical Theatre, the Principals Award for Musical Theatre and The Margaret Veale Award for Singing. Ashleigh subsequently joined the national tour of Boy George's musical Taboo, playing the leading role of 'Kim'. More recently she created the role of 'Lorraine Campbell' in the world premiere of the Susan Boyle musical I Dreamed A Dream, touring across the UK and Ireland. She subsequently appeared with Susan Boyle in her concert tour. Her many other theatre appearances include 'Stephanie Zinone' in Cool Rider; 'Emily' in Adam Guettel's Myths and Hymns; 'Miranda' in Betwixt; 'Miss Lynch' in Grease (UK Tour), 'Martha' in The Secret Garden (UK Tour) and numerous concert appearances. Ashleigh joins the Wicked UK Tour from 16 September 2014.
Emily Tierney – Glinda
Emily has won rave reviews for her performance as 'Glinda' in the national tour of Wicked and has previously appeared in the London production. She also played the character of 'Glinda' in Andrew Lloyd Webber's production of The Wizard of Oz at the London Palladium alongside 'Over The Rainbow' winner Danielle Hope. Emily's other theatre credits include: 'Sally' in All the Fun of the Fair (Garrick Theatre); 'Maria' in West Side Story (Barbican) and Titanic – The Musical (Shaw Theatre). Film includes: 'Ellie' in John Carter of Mars and 'Alice' in Kate Modern. Television includes: 'Lydia Harrison' in Push and Do It in Style+ and Eva Roderick in _New Tricks. Emily trained at Mountview.
Samuel Edwards – Fiyero
Samuael's other theatre appearances include: Ghost The Musical (Piccadilly Theatre); 'Feuilly' in Les Misérables (Queen's Theatre) and The Sound of Music (Open Air Theatre, Regent's Park). He trained at Arts Educational Schools, London.
Marilyn Cutts – Madame Morrible
Marilyn has previously starred as 'Mother Lord' in the UK tour of High Society. A founding member of Fascinating Aida, Marilyn's many theatre roles include: 'Mrs Potts' in Disney's Beauty and the Beast (UK Tour); 'Mrs Sowerberry' in Oliver! (Toronto); 'Armina' in Oklahoma! (National Theatre), directed by Trevor Nunn; the 'Doormouse' and the 'White Queen' in Alice In Wonderland (RSC); 'Mme de Rosemonde' in Adam Cooper's production of Les Liaisons Dangereuses and 'Helena Landless' in the original London production of The Mystery of Edwin Drood. Marilyn recently appeared in Tom Hooper's film of Les Misérables (Working Title/Cameron Mackintosh).
Steven Pinder – The Wizard and Doctor Dillamond
Steven played 'Max Farnham' in Phil Redmond's Brookside (Channel 4) from 1990 until its final episode in 2003. His many recent theatre appearances include: 'Barney Cashman' in Neil Simon's The Last of the Red Hot Lovers (St Helen's Theatre Royal), with Debra Stephenson; 'Frank' in The Memory of Water (New Vic and Stephen Joseph Theatre), directed by Nikolai Foster; 'George' in the comedy Who's Under Where; 'Stanley Banks' in Father of the Bride and 'Clem Watkins' in the thriller Scared To Death, written and directed by Ron Aldridge (all at the Mill at Sonning); 'Mr van Daan' in The Diary of Anne Frank (UK Tour), directed by Nikolai Foster, and 'Reverend Shaw Moore' in Footloose (UK Tour), with Matt Willis. In addition to Brookside, his many other television appearances include Doctors: The Bad Samaritan; True Crime; Holby City; Casualty; Emmerdale; two series as 'Owen Buckley' in Foxy Lady, with Diane Keen, and two series as 'Roy Lambert' in Crossroads from 1985-1988.
Carina Gillespie – Nessarose
Carina has previously starred as 'Sandy' in the most recent national tour of Grease, opposite Danny Bayne. Carina also played the role in the West End (Piccadilly Theatre) and on a previous national tour. Her other appearances include: 'Linda' in Bloodbath The Musical (Edinburgh Festival), with Siobhan McCarthy and Anthony Costa, and 'Maria Elena' in Buddy – The Buddy Holly Story on tour in the UK and Scandinavia.
Richard Vincent – Boq
Richard has trained at the London School of Musical Theatre. His theatre appearances include: 'Doody' in Grease (UK Tour) with Carina Gillespie; 'Harry' in State Fair (Trafalgar Studios); 'Jack Scott' in High School Musical (UK Tour); 'Lysander' in A Midsummer Night's Dream (UK Tour) and the title roles in Peter Pan and Jack and the Beanstalk (Qdos).
Jacqueline Hughes – Standby Elphaba
Jacqueline is currently appearing in the London production of Wicked. She first joined the production in 2011 having graduated from The Guildford School of Acting with First Class BA (Hons) in Musical Theatre. Her other appearances include: 'Fairy Godmother' in Cinderella (DG1, Dumfries) and 'Doreen' in The Steamie (UK Tour).
Creatives
Wicked has music and lyrics by Stephen Schwartz, a book by Winnie Holzman, scenic design by Eugene Lee, costumes by Susan Hilferty, lighting by Kenneth Posner, sound by Tony Meola, projection designs by Elaine J McCarthy, Hair and Wig designs by Tom Watson, music arrangements by Alex Lacamoire and Stephen Oremus, dance arrangements by James Lynn Abbott, orchestrations by William David Brohn, musical supervision by Stephen Oremus, musical staging by Wayne Cilento and is directed by Joe Mantello.
Story
If you think you know the Wicked Witch of the West, think again…
When Dorothy famously triumphed over the Wicked Witch, we only ever heard one side of the story. Gregory Maguire's "outstanding novel" (The Independent), 'Wicked: The Life and Times of the Wicked Witch of the West', ingeniously and wittily re-imagined the Land of Oz, creating a parallel universe to the familiar story written by L. Frank Baum and first published as 'The Wonderful Wizard of Oz' in 1900.
Wicked tells the incredible untold story of an unlikely but profound friendship between two girls who first meet as sorcery students at Shiz University: the blonde and very popular Glinda and a misunderstood green girl named Elphaba. Following an encounter with The Wizard, their friendship reaches a crossroads and their lives take very different paths. Glinda's unflinching desire for popularity sees her seduced by power while Elphaba's determination to remain true to herself, and to those around her, will have unexpected and shocking consequences for her future. Their extraordinary adventures in Oz will ultimately see them fulfil their destinies as Glinda The Good and the Wicked Witch of the West.
Experience this unforgettable, award-winning musical and discover that you've not been told the whole story about the Land of Oz.
blog comments powered by

Disqus