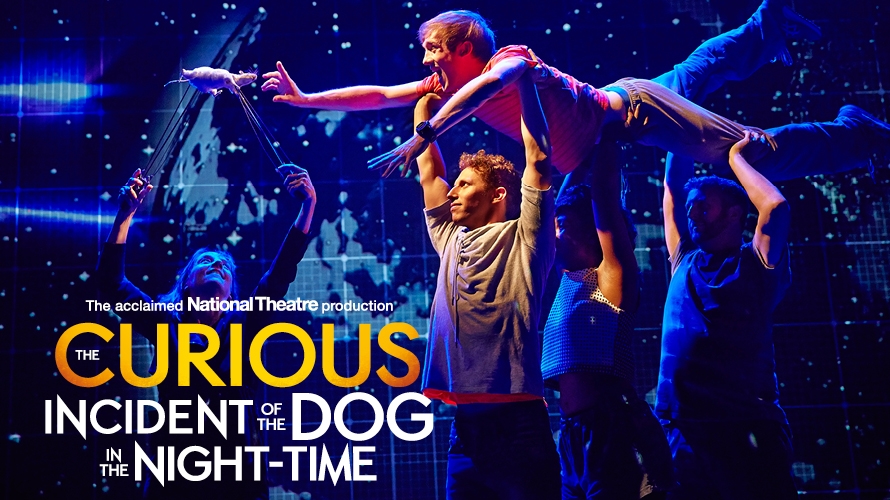 A National Theatre production
Details
Winner of seven 2013 Olivier Awards, this highly acclaimed National Theatre production visits Plymouth on its first ever nationwide tour.
Christopher, fifteen years old, has an extraordinary brain – exceptional at maths while ill-equipped to interpret everyday life. When he falls under suspicion of killing Mrs Shears' dog, it takes him on a journey that upturns his world…
This thrilling new stage play is based on the award winning novel by Mark Haddon, adapted by Simon Stephens and directed by Marianne Elliott.
Click here to listen to a podcast from the National Theatre's Platform series between Mark Haddon, the author of the original novel, and Simon Stephens who adapted the book for the stage.
Age guideline: 11+
Running Time: 2hrs 20mins (approx)
Access performances
Audio Described
Sat 14 March 2.30pm
Captioned
Sat 14 March 7.30pm
Please note that loud sound effects, high intensity lighting and video effects (including strobe lighting) feature in the production.
Pricing & Concessions
Full price:
£12.70 – £32.70
Please note: Prices include a 70p per ticket booking fee.
Under 16s, Student, Unwaged, Young Company:
£7 off A, B & C (Mon – Thu eves & Sat Mat)
Over 60s, Disabled:
£3 off A, B & C (Mon – Thu eves & Sat Mat)
Corporate Members:
£5 off A, B & C (Mon – Thu eves)
TRAC:
£4 off A, B & C (first performance – Monday 2nd March)
People's Company:
£3.50 off A, B & C (Mon – Thu eves & Sat Mat)
Groups of 10+:
£1.50 off (Mon – Thu eves & Sat Mat)
Groups of 20+:
£2.50 off (Mon – Thu eves & Sat Mat)
Groups of 40+:
£3.50 off (Mon – Thu eves & Sat Mat)
School groups of 10+:
£10 tickets (Mon – Thu eves, Thu mat)
Please note: Prices include a 70p per ticket booking fee. Concessions exclude price band E in The Lyric.
Dates & Times
A 70p per ticket booking fee will be applicable on all bookings made online, by phone and in person, for any payment method, up to a maximum of nine tickets. An additional 80p postage fee applies for tickets that are mailed to customers. Corporate Member, Friend, Group and School tickets do not incur a booking fee.
Concessionary tickets for Under 16s, Over 60s, Students, Young and People's Company members and TRAC members can be purchased online. Members will need to be logged in to the website in order for their concession to apply.
If you have a membership but have not yet created an online account with us please contact the Box Office on 01752 267222 and we will ensure your membership is associated with your website login for all future bookings.
Once purchased, tickets are non refundable and non transferable.
Reviews
an electric production… an original and tantalising performance that leaves the audience wanting more
No ordinary play. A magical night in the theatre.
Joshua Jenkins performance as angst-ridden Christopher is compelling…it is hard to imagine anybody could do it better.
A powerful production by the National Theatre, which gives both an enlightening and sympathetic insight into an often misunderstood condition
One of the most fully immersive works ever to wallop Broadway
A phenomenal combination of storytelling and spectacle
A beautiful, eloquent, dazzlingly inventive show about the wonders of life
A beautiful, ingenious and deeply felt production
The show is magically theatrical, but remains true to the sensitive spirit of the book.
It is utterly enthralling
Education
Curious Incident Movement Uncovered
Date: Thursday 12th or Friday 13th March 2015
Venue: Production and Learning centre, TR2 or in your school
Workshop Length: 2 hours, AM or PM
Price: £250 (+VAT)
Maximum: 24 participants
Join Frantic Assembly for a highly physical and energetic workshop to explore the movement in The Curious Incident of the Dog in the Night-Time. Fly through the air, get lost at Swindon station and uncover the everyday moments in Christopher's world. A Frantic Assembly practitioner will visit your school or TR2.
Date: Wednesday 11th March
Time: 4.00 – 5.30pm
Venue: The Lyric
Price: £3 pp
Facilitated by members of the Curious Company and NT Learning this event will provide audiences with greater insight into how a novel whose extraordinary central character sees the world in his own unique way can be brought to life on stage. This event will be particularly suitable for KS3/4 English, Drama and Technical Theatre students.
To discuss how your school or college can work with the Theatre Royal Plymouth or to book a workshop please contact:
Sally Waters, Young People's Officer
T: 01752 230375 E: sally.waters@theatreroyal.com
blog comments powered by

Disqus