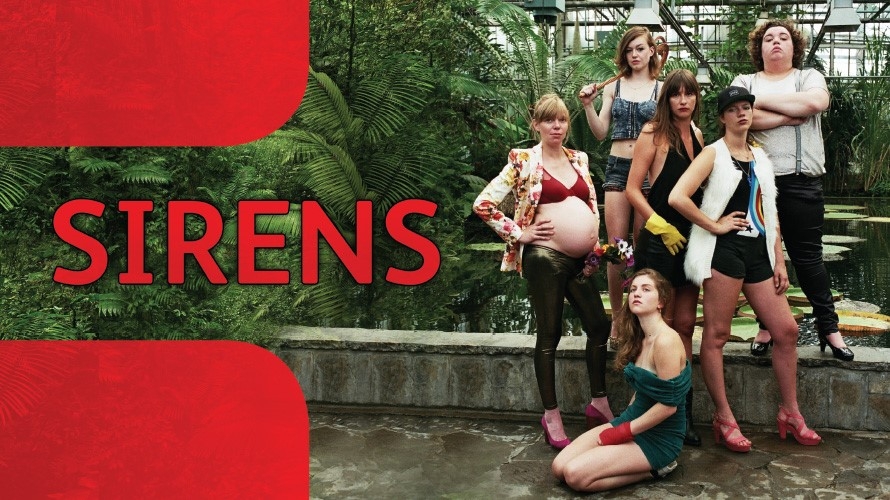 A Theatre Royal Plymouth Co-Production
Details
Ontroerend Goed, Vooruit, Theatre Royal Plymouth & Richard Jordan Productions Ltd present Sirens, with support of the Flemish Community, Province of East-Flanders and the City of Ghent.
Sirens, a feminist manifesto for the 21st century.
Sirens is written – and performed – by six young women, members of the internationally renowned Belgian company, Ontroerend Goed.
It is their heartfelt, yet irreverent, feminist manifesto for the 21st century.
They describe a new journey of contemporary femininity: their expectations, persisting inequalities, hard-fought rights, self-censorship and everyday abuse.
Cooperating like a musical sextet, they scream, laugh, sing, speak and cry their way through their experiences as women in the modern Western world, with new-found joys and liberties. They've taken control of their lives, expression and appearance and moved on, past militant anti-male rage to the hope that men can be just as feminist as they are.
Sirens – six young women, both alluring and alarming. The stage is theirs.
This Theatre Royal Plymouth co-production with dynamic and innovative Belgian theatre company, Ontroerend Goed, follows our previous joint success with Fight Night, All That is Wrong, Audience, A History of Everything, Teenage Riot and Under the Influence.
Recommended for audiences aged 18+. Contains very strong sexual imagery and language.
Running Time: 1hr 20mins
Double ticket offer
Buy Sirens and FREEZE! together for £18 (via Box Office)
Pricing & Concessions
Full price:
£14.70
All concessions:
£10.70
Please note: Prices include a 70p per ticket booking fee. Concessions exclude price band E in The Lyric.
Dates & Times
A 70p per ticket booking fee will be applicable on all bookings made online, by phone and in person, for any payment method, up to a maximum of nine tickets. An additional 80p postage fee applies for tickets that are mailed to customers. Corporate Member, Friend, Group and School tickets do not incur a booking fee.
Concessionary tickets for Under 16s, Over 60s, Students, Young and People's Company members and TRAC members can be purchased online. Members will need to be logged in to the website in order for their concession to apply.
If you have a membership but have not yet created an online account with us please contact the Box Office on 01752 267222 and we will ensure your membership is associated with your website login for all future bookings.
Once purchased, tickets are non-refundable and non-transferable.
Cast Biographies
Karolien De Bleser (1980-) Karolien first performed with Ontroerend Goed in Soap (2006) and became a regular, featuring in Hard To Get, Under The Influence, A Game Of You and A History of Everything. She has worked with various companies, including Buelens Paulina, Luxemburg, Zuidpool and Nunc. In 2008, she founded her own company, Cie. Barbarie, where she writes, performs and devises new work. Karolien graduated at the Brussels drama school Rits.
Charlotte De Bruyne (1990-) Charlotte started her acting career in 2002 in the Ghent youth theatre Kopergietery, where she met Alexander Devriendt and Ontroerend Goed. She performed in Once and For All and a series of other OG‐productions, among which The Smile Off Your Face, Internal, A Game of You, A History of Everything and Fight Night. She made her film debut in 2012, in Patrice Toye's Little Black Spiders and played a main role in Dominique Deruddere's Flying Home. From October she will feature in the series Vriendinnen on Flemish television. Charlotte graduated at the drama school of Ghent.
Aurélie Lannoy (1982-) works and lives in Brussels. Her collaboration with Ontroerend Goed started 10 years ago, when she performed and co-created the individual shows The Smile Off Your Face, Internal and A Game of You. Trained at the Jacques Lecoq-inspired drama school Kleine Academie, she wrote a solo, Moi Aurélie Lannoy and she is a regular guest at Brussels underground parties as a part of the DJ‐twosome Kiki et Poupou. Aurélie played main roles in the short films Inicia by Charlotte Dupont and Lubcha Libre by An Sinot and Raphael Bolboni. Recently, she followed workshops at the Susan Batson Studio in New York.
Marjan De Schutter (1988-) Marjan made her debute on stage in 2003, during her studies of drama and word art in high school. She studied singing at the Jazz studio in Antwerp and featured in BOOH, a television series for children. Marjan performed in Underground of Johan Simons at the Ghent city theatre, in Voorbijgangers with company Fernweh and Haven en Goed with company Boston. She played in the feature film Little Black Spiders. Marjan graduated as a Master in Drama at the RITS in Brussels and studies classical singing at the Antwerp conservatory.
Anemone Valcke (1990-) Anemone started her acting career in film, in the successful Flemish feature film Aanrijding in Moskou. She received numerous awards and nominations for her parts in Oxygen by Hans Van Nuffel and Offline by Peter Monsaert and played guest roles in various Flemish television series. In theatre, she realized the projects NEST and GONE and created the performances Report on the Party and the Guest and Een Lied with her companion Lieselotte De Keyzer, for which she won an award. Anemone is Master in Drama at the Ghent Drama School.
Verona Verbakel (1992-) Verona was first seen on stage in 2008 in Remember Me by Jan Sobrie and Geert Vandyck in youth theatre Kopergietery. She performed for Ontroerend Goed in Once and For All and in the second performance of the teenage trilogy, Teenage Riot in 2010. She played in the series Witse on Flemish television and graduated as a Master in Drama at the Antwerp conservatory.