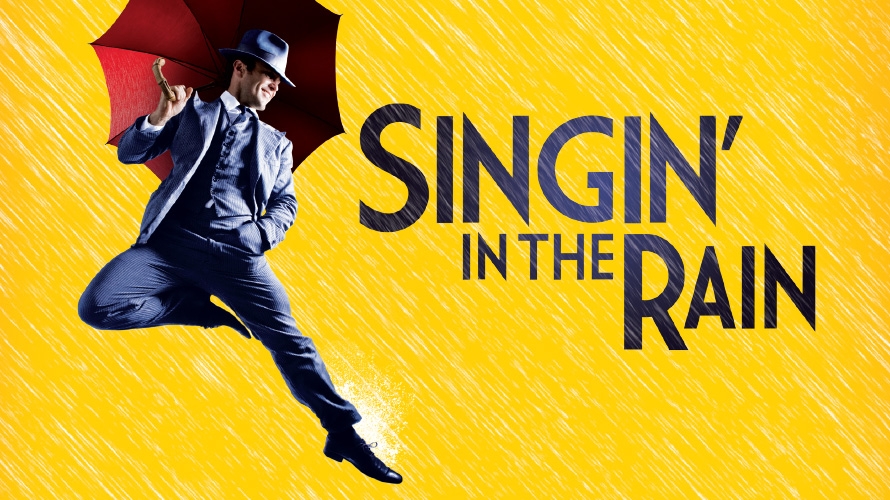 Details
Direct from the West End, this superbly enjoyable production of Singin' in the Rain is a smash hit with critics and audiences alike. It tells the story of the first Hollywood musical, when the silver screen found its voice and left silent movies – and some of its stars – behind.
This spectacular show is packed full of the charm, romance, comedy and tinseltown glamour of one the world's best loved movies and features all the songs from the glorious MGM score including Good Morning, Make 'em Laugh, Moses Supposes and the classic Singin' in the Rain.
Screen star Maxwell Caulfield plays studio boss R F Simpson and Coronation Street favourite Vicky Binns is the 'uniquely voiced' starlet Lina Lamont in this classic musical, full of high energy choreography and sumptuous set design (including 12,000 litres of water!). Singin' in the Rain showers you with everything you could wish for in a hit musical!
A night of sheer delight.
★ ★ ★ ★ ★
This all-tapping, all-splashing show will put a smile on anyone's face. ★ ★ ★ ★ ★
Leaves you feeling glorious. ★ ★ ★ ★ ★
Singin' in the Rain wowed audiences in the West End… and this production is just as glorious and looks as Fit as a Fiddle ★ ★ ★ ★ ★

Running time: Approx 2 hours and 40 mins including one interval of 20 mins
Audio Described performance: Sat 21 Jun 2.30pm
Caption performance: Sat 28 Jun 7.30pm
Signed performance: Sat 28 2.30pm
Pricing & Concessions
Full price:
£14.70 – £45.70
Under 16s, Student, Unwaged, Young Company, ANLO:
£5 off A, B & C (Mon – Thu eves)
Over 60s, Disabled:
£3 off A, B & C (Mon – Thu eves)
Corporate Members:
£5 off A, B & C (Mon – Thu eves)
TRAC:
£4 off A, B & C (Tue 17 Jun)
Friday Fiver:
£5 tickets in A, B & C (on day of performance only, under 26s only)
People's Company:
£3.50 off A, B & C (Mon – Thu eves)
Groups of 10+:
£1.50 off each ticket (Mon – Thu eves)
Groups of 20+:
£2.50 off each ticket (Mon – Thu eves)
Groups of 40+:
£3.50 off each ticket (Mon – Thu eves)
School groups of 10+:
£10 tickets in A, B & C (Mon – Thu eves & Thu mat)
Please note: Prices include a 70p per ticket booking fee. Concessions exclude price band E in The Lyric.
Dates & Times
A 70p per ticket booking fee will be applicable on all bookings made online, by phone and in person, for any payment method, up to a maximum of nine tickets. An additional 80p postage fee applies for tickets that are mailed to customers. Corporate Member, Friend, Group and School tickets do not incur a booking fee.
Concessionary tickets for Under 16s, Over 60s, Students, Young and People's Company members and TRAC members can be purchased online. Members will need to be logged in to the website in order for their concession to apply.
If you have a membership but have not yet created an online account with us please contact the Box Office on 01752 267222 and we will ensure your membership is associated with your website login for all future bookings.
Once purchased, tickets are non refundable and non transferable.
blog comments powered by

Disqus