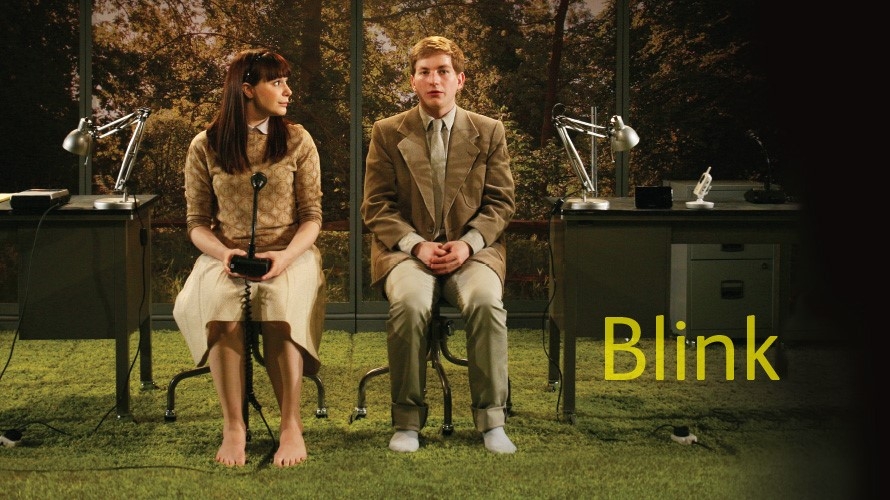 Soho Theatre and nabokov present
By Phil Porter
Details
"This is a true story, and it's a love story. This is our love story…"
This is the tale of Jonah and Sophie. It's a love story. A dysfunctional love story, but a love story all the same.
Against the lonely backdrop of London, the worlds of two shy individuals collide, and a charming, delicate and darkly funny story unfolds before your eyes.
Directed by Soho Theatre Artistic Associate and nabokov Artistic Director Joe Murphy, Blink was a sell-out hit at Soho Theatre and in Edinburgh in 2012.
Recommended for everyone aged 14+
Running Time: 1hr 10mins (approx)
Pricing & Concessions
Full price:
£14.70
All concessions:
£10.70
Friday Fiver for U26s:
£5.70 tickets (bookable on day of performance only)
Please note: Prices include a 70p per ticket booking fee.
Dates & Times
A 70p per ticket booking fee will be applicable on all bookings made online, by phone and in person, for any payment method, up to a maximum of nine tickets. An additional 80p postage fee applies for tickets that are mailed to customers. Corporate Member, Friend, Group and School tickets do not incur a booking fee.
Concessionary tickets for Under 16s, Over 60s, Students, Young and People's Company members and TRAC members can be purchased online. Members will need to be logged in to the website in order for their concession to apply.
If you have a membership but have not yet created an online account with us please contact the Box Office on 01752 267222 and we will ensure your membership is associated with your website login for all future bookings.
Once purchased, tickets are non refundable and non transferable.
Reviews
Unusual, joyous and heartbreaking, this is a near-perfect theatrical experience that will stay with you
Funny, fresh and appealing
An excellent whimsical production that makes your heart flutter
Brief, bright, exquisite… a fine piece of writing
This is an undeniably hot ticket
blog comments powered by

Disqus