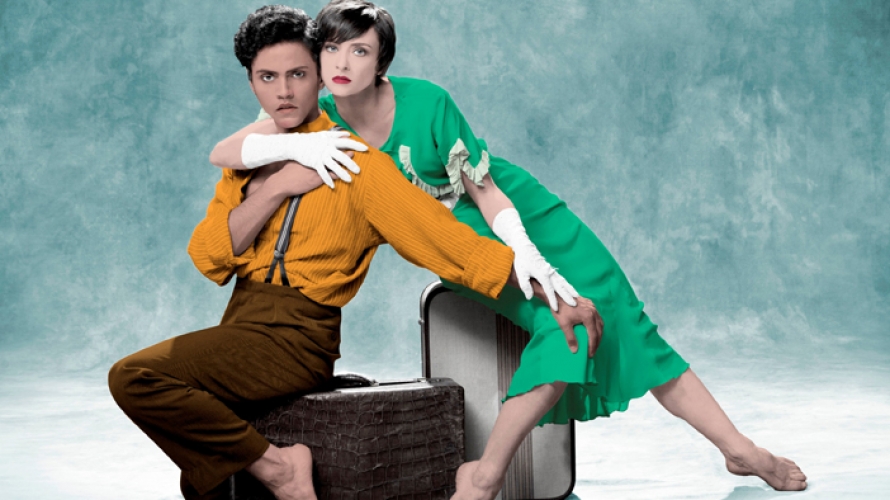 Details
Theatrical dance at its very best
Rambert, a powerhouse of dance since 1926, presents a spectacular evening of entertainment featuring terrific dancers, wonderful costumes and great live music from the Rambert Orchestra.
At the heart of the performance is Barak Marshall's The Castaways – a humorous and uplifting tale set to a vibrant mix of Yiddish music and popular American tunes. Barak's truly unique style combining popular music, inventive dance and enthralling storylines make for a compelling spectacle.
Watch a clip of The Castaways

The performance also features L'Après-midi d'un faune, an all-time classic set to music by Debussy and first performed by the legendary Ballets Russes over 100 years ago, the hugely enjoyable What Wild Ecstasy and the heart-stopping SUB.
…the dancing is indeed magically acrobatic
The most classical, muscular, versatile contemporary troupe in Britain
VIP Package available £150. Click here for more information
The sign language interpreted performance will take place on Wednesday 27 November.
Post Show Q&A: Wednesday 27th November.
Running Time: 2hrs 15 (approx).
Schools Workshops
Rambert Workshops
26th, 27th and 28th November 2013, half day or full day at TR2 or in school.
Pricing & Concessions
Full price:
£12 – £25
Under 16s, Student, Unwaged, Young Company, ANLO:
£8 off A, B & C
Over 60s, Disabled:
£3 off A, B & C
Corporate Members:
£5 off A, B & C
TRAC:
£5 off A, B & C (Fri 29 Nov)
Friday Fiver:
£5 tickets in A, B & C (on day of performance only)
People's Company:
£3.50 off A, B & C
Groups of 10+:
£1.50 off each ticket in A, B & C
Groups of 20+:
£2.50 off each ticket in A, B & C
Groups of 40+:
£3.50 off each ticket in A, B & C
School groups of 10+:
£9 tickets in A, B & C (Wed & Thu eves)
Special Under 30s rate:
£10 tickets (Fri 29 Nov)
Special Under 30s discount:
£8 off A, B & C (Wed & Thu eves)
Please note: A 70p per ticket booking fee applies on all orders, plus an additional 80p postage fee per transaction for tickets that are mailed to customers. Not all concessions are available online. Concessions exclude price band E in The Lyric.
Dates & Times
A 70p per ticket booking fee will be applicable on all bookings made online, by phone and in person, for any payment method, up to a maximum of nine tickets. An additional 80p postage fee applies for tickets that are mailed to customers. Corporate Member, Friend, Group and School tickets do not incur a booking fee.
Concessionary tickets for Under 16s, Over 60s, Students, Young and People's Company members and TRAC members can be purchased online. Members will need to be logged in to the website in order for their concession to apply.
If you have a membership but have not yet created an online account with us please contact the Box Office on 01752 267222 and we will ensure your membership is associated with your website login for all future bookings.
Once purchased, tickets are non refundable and non transferable.