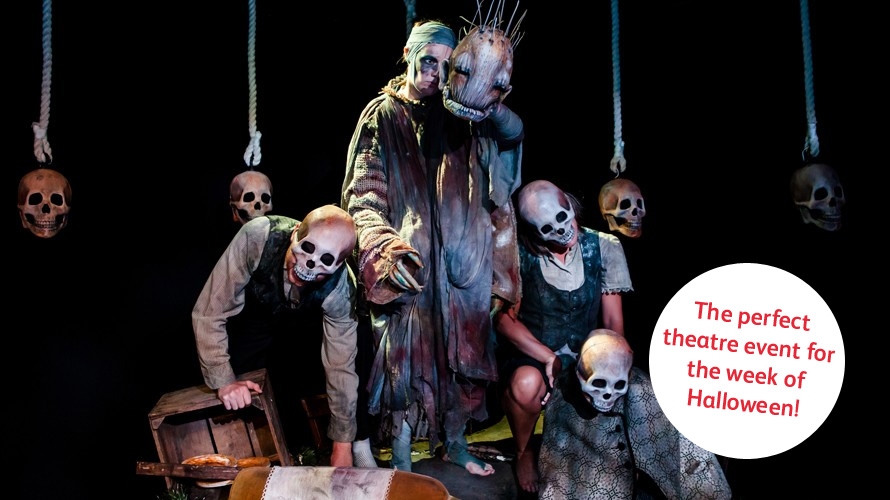 The Wrong Crowd present
The perfect theatre event for the week of Halloween!
Details
"I only eat the ones who deserve to be eaten."
Lisa is given something by her dying mother; something she doesn't want. Little does she know that learning to accept it might be the only thing that will save her own life.
The Wrong Crowd re-imagine Slavic folklore's extraordinary, child-eating hag-witch, Baba Yaga. Dark, visually inventive storytelling theatre, fusing live action, puppetry and music.
HERALD ANGEL 2013 AWARD WINNER
Hag follows the Edinburgh Fringe 2011 smash hit, The Girl with the Iron Claws.
Post Show Q&A: Thursday 31st October (after the 7.45pm performance)
Deliciously dark… It offers humour, charm and a bit of lovely gore. ****

Infused with a kind of anarchic charm and a strong whiff of magic. ****

A mighty fine calling card for a new theatre company… Makes your scalp quiver. ****

Storytelling, puppetry and music meld to spellbinding effect. ****

The right amount of horror and comic relief to charm and enchant. ****

A complete gem of a show that reminded me why I love theatre. *****

HAG's charm lies in the wonderful interplay between human and puppet. 4 stars.
HAG travels a cleverly balanced line between humour and emotional truth. 4 stars.
HAG offers up a real sense of theatre that has been crafted for the love of storytelling. 4 stars.
See this show if you want to escape from the daily grind into a world like the one we used to know so well as children. 4 stars.
A Bristol Old Vic Ferment commission.
Writer/Director: Hannah Mulder
Designer/Puppet Director: Rachael Canning
Composer: Frank Moon
Pricing & Concessions
Full price:
£14
All concessions:
£10
Friday Fiver:
£5 tickets (on day of performance only)
Please note: A 70p per ticket booking fee applies on all orders, plus an additional 80p postage fee per transaction for tickets that are mailed to customers. Not all concessions are available online. Concessions exclude price band E in The Lyric.
Dates & Times
Not suitable for under 10s.
Running Time 1hr 10mins (approx).
A 70p per ticket booking fee will be applicable on all bookings made online, by phone and in person, for any payment method, up to a maximum of nine tickets. An additional 80p postage fee applies for tickets that are mailed to customers. Corporate Member, Friend, Group and School tickets do not incur a booking fee.
Concessionary tickets for Under 16s, Over 60s, Students, Young and People's Company members and TRAC members can be purchased online. Members will need to be logged in to the website in order for their concession to apply.
If you have a membership but have not yet created an online account with us please contact the Box Office on 01752 267222 and we will ensure your membership is associated with your website login for all future bookings.
Once purchased, tickets are non refundable and non transferable.
blog comments powered by

Disqus