Funky Llama is a platform for adults with different abilities* to actively participate in the creation and delivery of a programme of activities and professional, inclusive arts events to develop well-being, promote multiple social networking opportunities, reduce isolation and enhance life skills.
*Differently-abled is an inclusive term used by our Driving Force steering group. This term may include people who identify as learning disabled, deaf, disabled or neurodiverse.
Get Involved
Funky Llama Events
Annual inclusive arts events (open to non-members):
Funky Llama Festival – a summer event that is open to all ages and features live bands, DJs, dance, theatre, creative workshops, arts and crafts and much more.
Funky Llama Club Night – an autumn event for over 18s that brings the festival vibe indoors with live music, DJs, dance, pop-up performances, a glitter bar, themed cocktails and much more.
Funky Llama Membership
Join Funky Llama – pay a £6 annual fee to become a Funky Llama Member and get exclusive access to regular activities, one-off workshops and social events.
Funky Llama Social
Regular social meet ups for Funky Llama Members to attend.
Funky Llama Regular Groups
Funky Llama Members can get involved in a variety of weekly workshops.
Funky Llama Leadership & Training
Opportunities for volunteering, work experience and training within theatre and events. This includes the Funky Llama Driving Force steering group.
Funky Llama Artist Mentoring
Bespoke artist mentoring for differently abled artists in music, dance and theatre.
For more information about artist mentoring please contact Sara Baldwin, Engagement Manager on 01752 230378 or email sara.baldwin@theatreroyal.com
Funky Llama Gig Buddies
A befriending scheme supporting differently abled adults to attend Funky Llama Events, to be independent and meet new people.
For more information about Gig Buddies please contact Frankie Hocking, Engagement Officer on 01752 230339 or email funkyllama@theatreroyal.com
For any questions on how to Get Involved, please email funkyllama@theatreroyal.com.
Funky Llama has made me feel a lot more confident to show off my many skills and feel proud. I've done things I never ever thought I'd do in my life.
Funders and supporters
The Theatre Royal Plymouth gratefully acknowledges funding for Funky Llama from The Big Lottery Fund.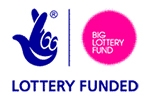 Contacts
For more information about Funky Llama, please contact:
Sara Baldwin, Engagement Manager
sara.baldwin@theatreroyal.com 01752 230378