Infinity Pool | Bea Roberts
Tweet
As a playwright, I spend the bulk of my time working with words on a page and three years ago I began to wonder how much I could get away with putting those words on stage – literally just the words themselves with no actors to make them sound better or funnier or more weighty… It seemed an audacious idea and I was frightened of it and so, naturally, I became obsessed with doing it.
I pitched the idea – "it'll be a play without actors and no live dialogue and I have no idea if it will work" – to Bristol's Theatre West who gamely commissioned me for their 2014 season and so the experiment began. In any ridiculous venture you'll need good conspirators so I roped in the very talented Deirdre Mullins as director and designer, Max Johns. We set to work and over many, many hours of rehearsal and many pursuits up blind alleys we developed a grammar and aesthetic for the storytelling – with certain characters you'll read their words or hear them on answer machines or only see their Facebook pages etc. It was an exciting and exhausting process as we found we needed to make everything for the show from scratch including fake radio jingles, adverts, news reports, self help tapes, Facebook pages, acetates, emails, everything. There's nothing quite like having email conversations with yourself from multiple fake accounts at 2am to make you question your life choices and I still remember the terror of the very first night when we genuinely had no idea if the play would make any sense to an audience.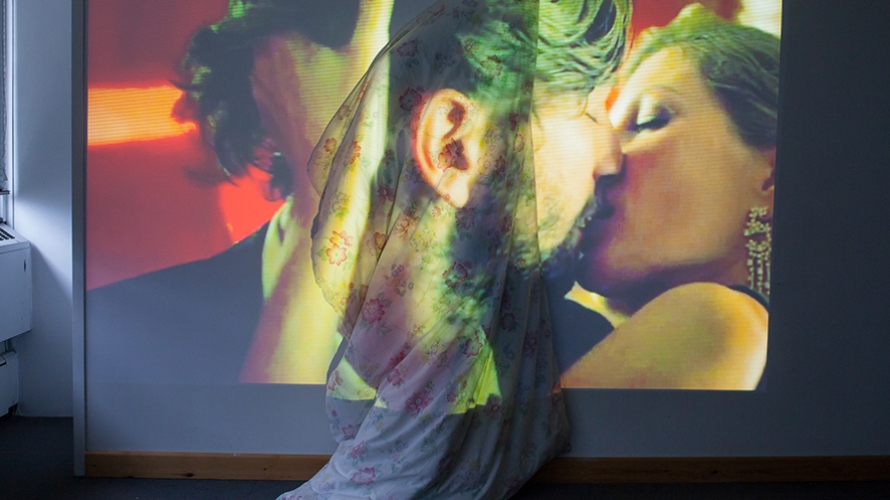 With very little road map for how the show would work we'd followed our instincts and it paid off. Maybe some solo shows are the work and vision of one person but Infinity Pool is truly the result of the dedication and talent of everyone who's helped with its development since those first few months including Nik Partridge, Keegan Curran, Matt Lister, Sharon Clark, Shaun Luker, Marie Clifford, Dan Winter, Ali Robertson and David Lockwood.
It's an infuriatingly hard play to describe. Hopefully, it'll be unlike anything you've ever seen before. As an adaptation of Madame Bovary the experience is a bit like reading a novel, in that the characters will largely exist in your imagination but then again, it's also a bit like watching a film and a bit like watching a play. It's very funny and there are free snacks.
The play's set in Plymouth and I'm a local girl so it's VERY exciting to be playing to Plymouthian audiences who can spot all the sights in the show – it also means I can get at least one Cap'n Jaspers in on the tour… So I hope you enjoy the show; I'm going to tell you a story I'm just not going to say a word.
Bea Roberts