Assembling The Whipping Man: developing performance and shaping scenes
Tweet
With less than a week to go until the first previews of The Whipping Man and the cast and crew now down in Plymouth for the final week of rehearsals, it's all starting to feel quite real. Wigs are being fitted, make-up perfected and fake horsemeat cooked; step by step, we're no longer having to imagine what the show will be like and can instead simply look at the props, costumes and set all coming together. It's not just the design elements of the show that are feeling more real, either: our final week of rehearsals has mainly been focused on developing the characters and their relationships in vivid detail.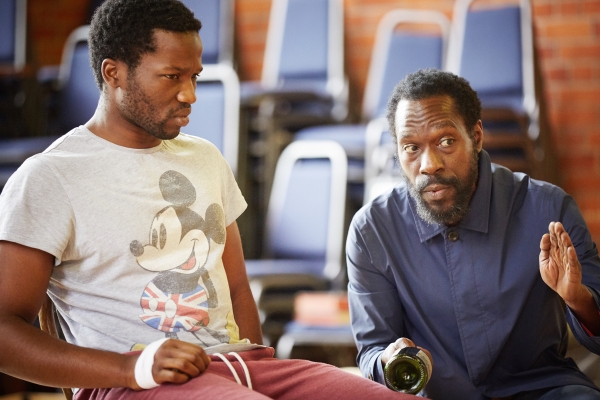 Now that we've covered the historical and religious context of the play in rehearsals, and have got to grips with more practical elements like stage fighting and the overall shape of the scenes, the final week's involved discussions and decisions about each character, and their interactions with each other. I've constantly been reminded of something said by the play's writer, Matthew Lopez, during a Skype session the cast had with him a couple of weeks ago: every good production of the play is one performance, not three. It's all about everything that three people are doing onstage working together as a whole.
That strikes me as something that could be true of any good production, but is even more apt in the case of The Whipping Man, with three characters who've known each other for decades and are so closely bound together. A lot of the language in rehearsal room discussions this week has been geared towards what the characters are doing to each other – he persuades him, he threatens them, they challenge him.
It's precisely this language that's used in a slightly more formal acting/directing technique, called actioning (where you try to identify the 'action' that each line performs, what it is that someone is trying to do to someone else with what they're saying) – though we've not been specifically using actioning in rehearsals for the show. Whilst there's a huge range of exercises that I've seen actors and directors use to create brilliant performances, the rehearsal room for The Whipping Man has been so much more about conversation; exercises will often require you to zoom in on one specific thing (one moment in the script, one perspective of a character, one particular relationship) but what's become so clear in the past week is how any one detail of The Whipping Man links to multiple other things in the play, and you can't really isolate them.
That's why it's been brilliant to start running the play in rehearsals from beginning to end, to see it as one whole story and get a sense of how everything links up once it's put together. I can't wait to move out of the rehearsal room next week and into The Drum theatre to tackle the challenge of bringing the actors' performances together with the set, props, costume, lighting and sound!
The Whipping Man will be performed in The Drum from Thursday 17 September to Saturday 3 October at 7.45pm each evening. Book your tickets from The Whipping Man show page.