The latest in Production Services: a set for Garsington Opera and forget-me-nots for St Lukes
Tweet
The makers at our Production and Learning centre, TR2, take ideas and designs and turn them 3D masterpieces. From timber work to welding, painting to sculpturing, this is a creative hub where some of the countries finest theatre sets are created. I caught up with Project Manager, Seb, to find out what the team have been working on recently and what is coming next.
Seb has been working at TR2 for 30 years (on and off) and each time I meet with him I am astounded by his enthusiasm for his work and the fact he is never phased by any project; his excitement grows in line with the ambition of the designs. His team of makers can cover all aspects of set building: drawing, designing, prop making, set building, scenery painting… the list goes on. The pace of development is admirable as every works in unison, passing sections of a project from area-to-area as it all comes together. A dynamic and extremely skilled workforce bring their projects to life right before your eyes over the course of a number of weeks. Let's not forget the scale of each set being built. Generally around 10 metres tall by 15 to 20 metres wide with a possible depth of 15 metres, so much needs to be considered in terms of how this is going to be toured or rebuilt in the Theatre.
On my latest visit the team were working hard on a two tiered set for Garsington Opera. A long-standing partner, Garsington Opera create quality productions set in areas of extraordinary natural beauty. This clean-cut, architectural piece for a production of Intermezzo (a Strauss piece) was just over two weeks into the build and will move out in about a week.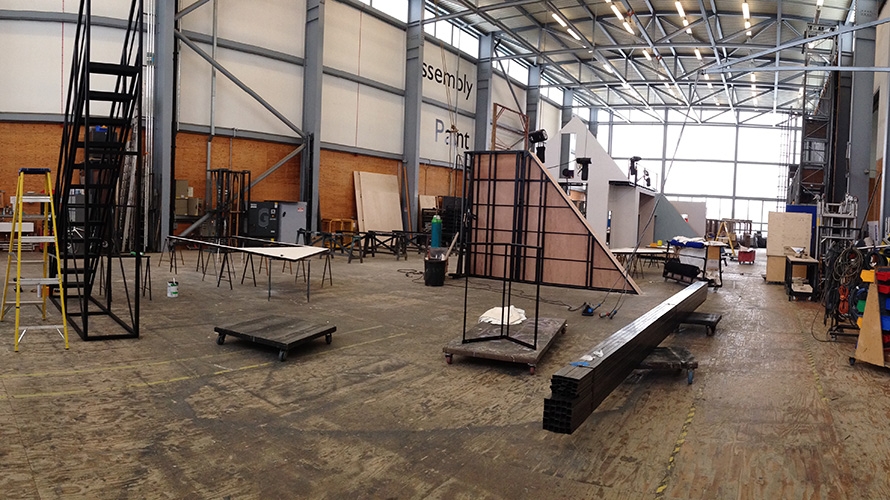 On top of this, the teams had just completed a project for St Luke's Hospice Plymouth which involved making 1,000 forget-me-nots to be part of a commemoration display on The Hoe. Hand crafted and brightly coloured, the forget-me-nots are being sold by St Luke's in order to raise vital funds for the local hospice. These came together to form a memorial display on The Hoe which was officially opened by Angela Rippon on Friday 1st May. Head up to The Hoe throughout the month of May to see the fabulous display for a very special cause.
As ever, during my visit to the Production and Learning centre is alive with the sound of electric saws, welders and people communicating across the huge space. This timelapse shows you some the various areas of the workshops along with insight into how a project looks at the half-way stage…
If you are interested in finding out more about our production services you can book on to a tour of TR2 which takes in the creative learning department, rehearsal spaces, prop stores and costume stores. Alternatively, you can find out more about past production projects here.